Ocean view Accommodations at the Enchanter B&B
Are you looking for peace and serenity while yearning for some enchantment? Come share our "little paradise" in Pender Harbour - located 1 hour and 40 minutes northwest of Vancouver on the beautiful Sunshine Coast of British Columbia. Pender Harbour's huge, protected deep harbour with many intriguing bays, coves, and islands make it a boaters paradise with some of the best diving, kayaking, and hiking to be found anywhere. In addition to the ocean, pristine fresh water lakes offer swimming, canoeing, trout fishing and waterskiing.
The Enchanter Bed and Breakfast consists of a uniquely constructed Geodesic Dome house, situated on nearly an acre of park-like setting with towering cedar trees, a natural stream and fish pond, all snugly nestled in the shelter of the harbour. Choose from one of our three B&B suites, all which offer breathtaking ocean views. Or camp in style in a private luxury holiday trailer set up under the cedar trees with an incredible view of the harbour.
After a hard day's play enjoy a relaxing meal at a restaurant or pub before coming back to your comfortable suite. Enjoy our hot tub and relax on the deck while watching a magnificent sunset on the harbour. Our bed and breakfast suites are suited for double-occupancy and have private entries, king or queen sized bed and private bathrooms, as well as snack kitchens, TVs, DVD players and wireless internet connections. After a refreshing night's sleep enjoy and full-course breakfast in privacy of your suite or come and join us on the upper ocean view deck for a hearty breakfast while enjoying a magnificent view all the way out to Malaspina Strait and Texada Island.
Sunshine Coast Activities
Take advantage of the many hiking trails in Pender Harbour. Or sail your boat up Malaspina Strait and dock at the Madiera Park Government Dock, a five-minute drive to our B&B. You may want to rent a kayak or canoe from one of the rentals in the area. How about booking a boat tour and discovering the beauty of the waterways such as the Princess Louisa Inlet!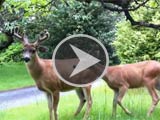 While relaxing in our serene country setting and enjoying the spectacular view of the harbour, you are only five minutes away from Madeira Park with a shopping center that offers all the basics. The public boat launch is also situated there. Nature lovers will be delighted to see resident deer happily munching in the garden, or eagles and vultures soaring overhead. A boat tour around the harbour and out into Malaspina Strait will delight nature enthusiasts as they see harbour seals basking on the rocks, and possibly a pod of killer whales passing by.